Webcam Effects Software
Want to create amazing webcam effects video with your webcam? Want to make your own cool avatar pictures? Want to add awesome video effects on Skype, AIM, Live Messenger, Yahoo Messenger while video chat? Want to take pictures with web camera with effects? Use our software! All camera modes are supported. Besides webcams,
DV, TV cards, Video capturing cards
are also supported.
Support thousands of Effects:
Add photo frames on webcam video;
Amazing video transforming effects and video plugins;
Video scene;
Picture in Picture;
Add scrolling texts with effects on webcam video;
Webcam face tracking to add masks, glasses, hats, etc.;
Completely replace webcam backgrounds videos with a video file;
Flash, gif animations;
Free drawing / doodle on video by mouse;
Use files/screens as input source as well as webcams.
Version 7 for all Windows Version
(Updated on May, 2017)

Free Download the most popular Webcam Effects Software on Internet now!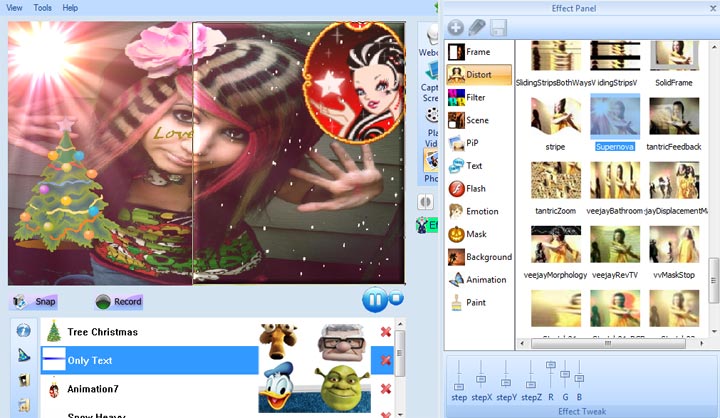 Why not try it yourself? Free Download it below!

Our software is 100% clean and is guaranteed not to contain any spyware or any unwanted software.
If you have any issues using our Webcam Effects software, feel free to contact us via email.